Farmington MI's Preferred Puppy Training Services
Trust & Obey Is The Best Puppy Training For Your Furry Best Friend!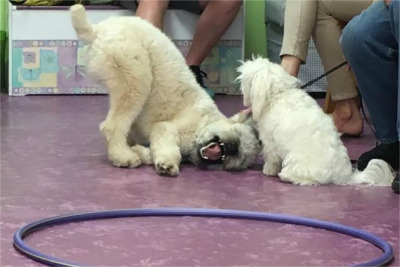 Are you ready to teach your dog new tricks? If you have a high-energy or stubborn dog, our team at Trust & Obey is here to help. We offer dog training services that are founded on trust, not fear.
We're flexible. Our team can meet you at your Farmington home, or you can come to our Northville facility. What's important to our dog training company is finding a neutral place where you and your pup feel at ease. Once everyone trusts each other, we can get to work. You don't need to rush through day job deadlines in order to make it to a class, and you don't need to worry about tidying up the house if you've opted for in-house training. We want what's best for you and your pup. The rest is just details.
Who Do We Train?
At Trust & Obey, we believe that obedience comes second nature once trust is established. As such, each dog training instructor employs an arsenal of fun, yet effective, teaching tools to help your pooch understand his or her expectations. With a bit of training, and tons of positive reinforcement, treats, and belly rubs, your dog will be the best friend you'll ever have.
Sometimes, intentions are misunderstood, but with great training, everyone can be on an equal playing field.
If you're looking for a dog training school that understands what you and your pooch are going through, it's time to enlist the assistance of pawsitive reinforcements. Check out Trust & Obey's class schedule, and be sure to fill out our contact form if you're interested in a personalized behavioral consultation.
---
Why Choose Us For Your Puppy Training?
I am a Mentor Trainer with Animal Behavior College, mentoring students that are going through the program. This has proven to be beneficial to my clients because the students come to the classes and help out. Because of this, the clients get more one-on-one training.
Animal Rescue Volunteer
I am a volunteer with a local dog rescue, offering my services free of charge to the fosters, helping the dogs to become more adoptable and to work through any issues they may be having.
---
Our Puppy Training Will Teach Your Dog Behaviors That Go Deeper Than Chain Store Classes
Touch
Sit
Release
Sit Stay
Down
Down Stay
Stand
Jumping
Polite Greetings
Focus
Come (Recall)
Heel/Place
Leave-it
Loose Leash Walking
Each week there will be time for question & answers covering behavior issues such as: chewing, mouthing, digging, barking, house breaking, separation anxiety, counter surfing, stealing, destructive behavior & more!
---
Reviews About Our Puppy Training Services:
"In Judi's puppy class and we (puppy, too!) are having a great time! The dogs pick up the hang of things pretty quickly in class and, with minimal homework at home, she continues to do great. Highly recommend Trust & Obey!! "
- Darren B.
"Just finished Fun with Fido! Judi is a patient and kind trainer who understands the dogs and the owners need to have some fun mixed in with the training. Great class! "
- Lynda R.
---
Contact us for the top-rated puppy training services throughout the Farmington area! We'd love to help your dog - whether they're old or a puppy - learn new tricks to help! Contact us or stop on by to see why we're preferred among other trainers in Southeast Michigan!