South Lyon MI's Best Puppy Training Services
Get Your Best Friend The Puppy Training They Deserve at Trust & Obey!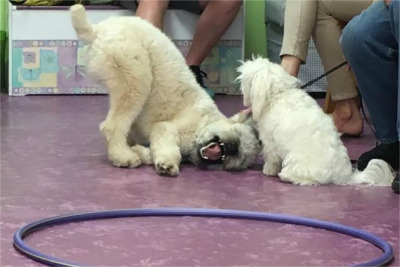 Are you ready to teach your dog new tricks? If you have a high-energy or stubborn dog, our team at Trust & Obey is here to help. We offer dog training services that are founded on trust, not fear.
We're flexible. Our team can meet you at your South Lyon home, or you can come to our Northville facility. What's important to our dog training company is finding a neutral place where you and your pup feel at ease. Once everyone trusts each other, we can get to work. You don't need to rush through day job deadlines in order to make it to a class, and you don't need to worry about tidying up the house if you've opted for in-house training. We want what's best for you and your pup. The rest is just details.
Who Do We Train?
From fresh-out-of-the-litter puppies to old dogs with tales to tell, our dog training techniques are tailored to ensuring a lifetime of obedience and friendship between you and your four-legged friend. It is our goal to provide the most effective dog training in the shortest amount of time possible so you and your best friend can enjoy your lives together.
Sometimes, intentions are misunderstood, but with great training, everyone can be on an equal playing field.
If you're looking for a dog training school that understands what you and your pooch are going through, it's time to enlist the assistance of pawsitive reinforcements. Check out Trust & Obey's class schedule, and be sure to fill out our contact form if you're interested in a personalized behavioral consultation.
---
Why Choose Us For Your Puppy Training?
I am a Mentor Trainer with Animal Behavior College, mentoring students that are going through the program. This has proven to be beneficial to my clients because the students come to the classes and help out. Because of this, the clients get more one-on-one training.
Seminar Attendee
I have attended several training seminars including Ian Dunbar's "Science Based Dog Training with Feeling" seminar, Chris Bach's "The Third Way" seminar, Virgina Broitman's Fido Refined seminar, Brenda Aloff "Canine Body Language", Sue Sternberg's "Access a Pet" seminar and Joey Iverson's Behavior Adjustment Training (BAT). I have also taken a Vet Tech course and attended several pet first aid seminars.
---
Our Puppy Training Will Teach Your Dog Behaviors That Go Deeper Than Chain Store Classes
Positive Reinforcement Training
Leadership
House Breaking
Crate Training
Puppy Mouthing & Nipping
Getting Puppy Used to Leash & Collar
Socializing & Desensitizing
Body Language
Each week there will be time for question & answers covering behavior issues such as: chewing, mouthing, digging, barking, house breaking, separation anxiety, counter surfing, stealing, destructive behavior & more!
---
See What Others Are Saying About Our Puppy Training Services:
"In Judi's puppy class and we (puppy, too!) are having a great time! The dogs pick up the hang of things pretty quickly in class and, with minimal homework at home, she continues to do great. Highly recommend Trust & Obey!! "
- Darren B.
"Judi is a great dog trainer. My dog, Bella and I have taken a couple of classes from Judi and she is awesome! She is willing to work with you if you have a dog with issues too! She is knowledgeable and helpful. I would recommend her to anyone!"
- Laura R.
---
Contact us for the leading puppy training services throughout the South Lyon area! We'd love to help your dog - whether they're old or a puppy - learn new tricks to help! Contact us or stop on by to see why we're preferred among other trainers in Southeast Michigan!