Fun with Fido
Intermediate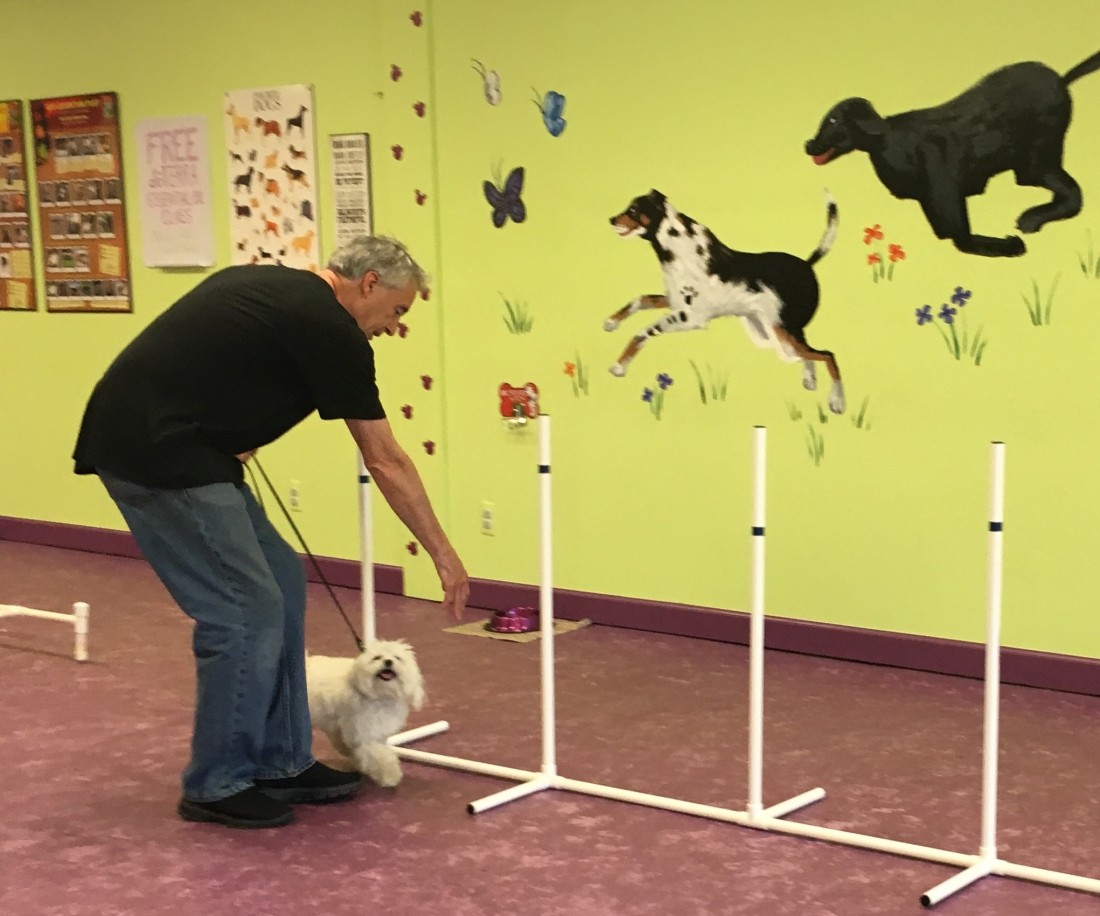 Pre-agility - Shaping - Tricks - Games
This class is ideal if you want to move on to agility. The class teaches shaping, and introductions to non-regulation agility equipment. There will also be some tricks and games at the end of each class.
Confidence Building
The class is also helpful for somewhat skittish dogs, it builds their confidence and owners learn the proper way how to desensitize their dogs to the equipment and other things the dog may encounter in life as well.
Class Requirements:
Basic Obedience preferred, but a good understanding of sit-stay and down-stay is helpful.
Dogs must not be reactive or aggressive toward other dogs.
COMING SOON!
Impulse Class: this class is for dogs that have impulsive behaviors. We will be learning how to calm them down so they can use their brains instead of getting overly excited. Things that may be covered: jumping on people, bolting out the door, pulling on leash, leave-it, barking (this does not include dog reactivity), and more.
Puppy Kindergarten Class: this class is for puppies 8-14 weeks old that have had 2 rounds of shots and have been de-wormed. This class is all about socialization and enrichment. They will learn a light amount of commands as well. There will be topics of discussion such as housebreaking, crate training, mouthing & nipping, and all those little annoying things that puppies do. We will also be teaching polite greetings, desensitizing them to strange things, teaching them to pay attention and check in, and did I mention it is all about socializing? Owners will be learning how to properly socialize them and what to socialize them to. This class is meant to be a fun and enjoyable class for both the puppy and their families. It is recommended to follow up with either the Puppy Basics class or the Basic Obedience class. A coupon will be given to each student that wants to attend one of these classes.
See Spot Sniff: this class is a fun class for teaching dogs how to find things using their sense of smell. This is a challenging class as well as a confidence building class. This class is fun for all dogs, but they must not be reactive or dog aggressive.
Please note that this class will be for fun and bonding with your dog, it is not meant to be considered a competition scenting class.
Call if you are interested in a specific class and we can start a waiting list.